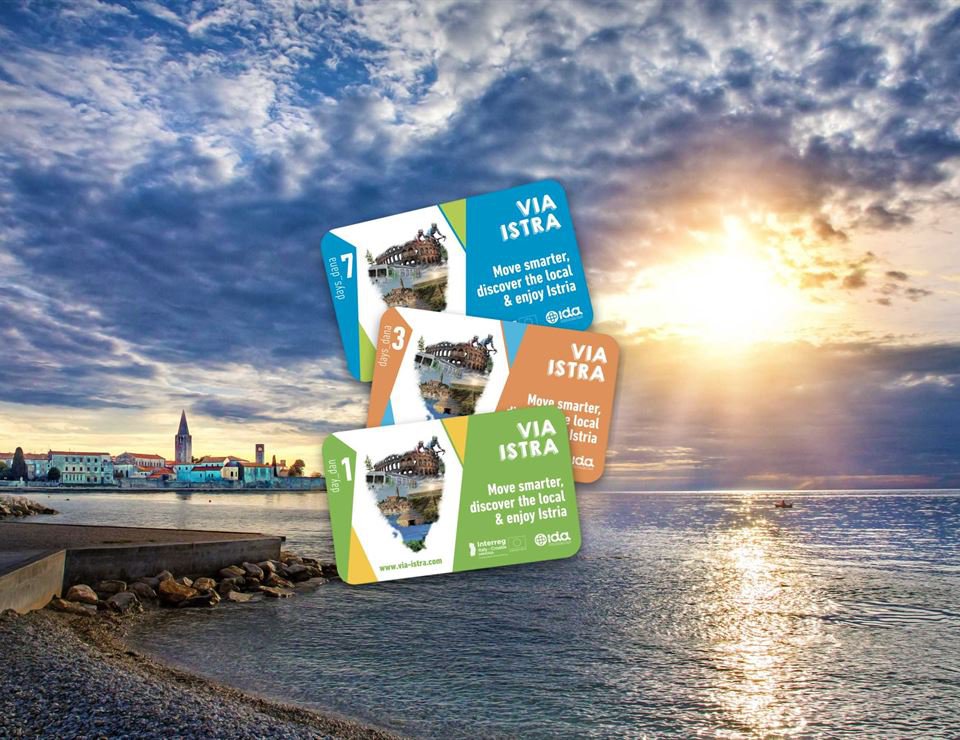 Published: 29.6.2022.
VIA ISTRA Smart Tourist Card
In cooperation with the Istrian Development Agency in Pula (IDA), and as part of the cross-border project MIMOSA (Interreg Italy-Croatia), PENTA d.o.o. participated in the development of a software solution for a digital tourism product - a smart card "VIA ISTRA". For the project's needs, a web platform with an accompanying webshop has been created, enabling users to purchase VIA ISTRA cards online, and it will be launched in July this year.
This card comes in 1, 3 or 7-day variants and enables more favourable use of public transport and visits to cultural and historical locations for all who visit Istria, but also for the domicile population. All three variants include an unlimited number of rides on Pulapromet buses on all lines and unlimited travel by HŽ train on the Pula - Buzet route during the validity period of the card, which begins with the first use of the service on each individual card. From the transport services, the three-day card also includes the shuttle bus of Pula Airport and the system of public bicycles in Medulin, Fažana, Umag and Pazin. In addition to the use of transport services, users will be able to visit many sights (Pula Amphitheater, Temple of Augustus, Zerostrasse underground tunnels, Pula Castle and the Museum of Contemporary Art of Istria, Castle Morosini - Grimani in Svetvinčenat, Visitor Center in Barban, Ethnographic Museum of Istria and The Museum of the City of Pazin and the National Museum in Labin).
"When we designed VIA ISTRA, we were guided by the idea of providing added value in content for all those who visit and love Istria County, and given the trends, the focus is on digital sales channels, a multilingual webshop and two versions of the mobile application. One will be intended for customers, while the other service providers involved in the initiative will control and validate the QR codes of users", said the director of IDA, PhD Boris Sabatti.
In addition to these basic packages, the VIA ISTRA card will provide a number of additional discounts in content for users, which is an opportunity for further economic development given that there is the possibility to expand and upgrade and include as many businesses in the offer.