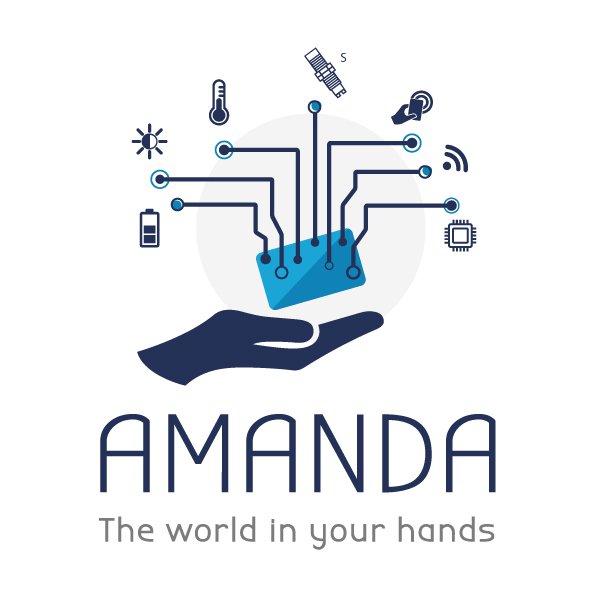 Published: 18.3.2020.
Second year of the H2020 AMANDA project implementation
One card, with so many features and solutions – AMANDA, Autonomous self-powered miniaturized sensor for intelligent environmental sensing and asset tracking in smart IoT environments
The H2020 AMANDA project is successfully undergoing the second year of implementation. The total value of the project is EUR 3,999,625.00 and is 100% financed by the EU. The AMANDA consortium consists of 8 partners from 6 different European countries: Centre for Research and Technology Hellas – CERTH (Greece), Imec R&D, nanoelectronics and digital technologies (The Netherlands), Zurich University of Applied Sciences (Switzerland), Lightricity Ltd (England), e-peas - Electronic Portable Energy Autonomous Systems (Belgium), Ilika plc (England), Microdul AG (Switzerland), Penta d.o.o. (Croatia).
The main objective of the project is to investigate and implement the possibility of manufacturing a multisensor autonomous card, and it is expected that upon successful completion of the project, the autonomous multisensor card will find its widespread use in IT solutions based on IoT technology. Accordingly, the consortium defined five (5) so-called "Use Cases" of the AMANDA ASSC (Autonomous Smart Sensing Card):
| | | |
| --- | --- | --- |
| Use Case | Description | Version |
| UC1 | Environmental room sensing for automated room control and safety | Indoor |
| UC2 | Multisensory indoor parking slot occupancy monitoring | Indoor/Outdoor |
| UC3 | Infrastructure, noise, weather and air quality monitoring station | Outdoor |
| UC4 | Identification and health of people in a working environment |  Wearable |
| UC5 | Assets and goods tracking and monitoring | Indoor/Outdoor |
Thirteen (13) operational scenarios were also identified after the research was conducted (The Voice of the Customers), each linked to one of the previously noted use cases. The AMANDA ASSC card will provide the ability to monitor air quality, temperature, humidity, long-range traceability that can easily be implemented in smart building or smart city solutions, but also on the body (wearable device), as well as on propulsion machines (industrial IoT). The identified scenarios are shown in the table below, and more detailed information can be found on the official website of the AMANDA project (https://amanda-project.eu/).
Label

Scenarios

Version

Relation to Use Cases

SC01

Heating, ventilation and air conditioning

Indoor

UC1

SC02

Automated lighting control

Indoor

SC03

Detection of dangerous gases and alerting 

Indoor

SC04

Fire detection

Indoor

SC05

Continuous occupancy monitoring in an indoor parking lot

Indoor

UC2

SC06

Continuous occupancy monitoring in an outdoor parking lot

Outdoor

SC07

City air quality and weather monitoring station

Outdoor

UC3

SC08

Continuous monitoring of vibrations affecting structures

Outdoor

SC09

Access control

Wearable

UC4

SC10

Personalised thermal comfort monitor

Wearable

SC11

Employee positioning

Wearable

SC12

Monitoring environmental and vibration conditions in cargo area

Outdoor

UC5

SC13

Products tracking in warehouses

Indoor